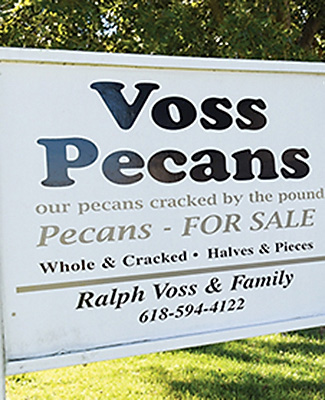 Voss Pecans

10101 Slant Road
Carlyle, IL 62231

Hours of Operation:
Seasonal hours (Nov. 15 – Jan. 1)
Tues thru Fri: 10:00 to 5:00
Saturday: 10:00 to 3:00
Sunday: 12:00 to 4:00
Closed on Monday and Holidays
Call ahead for off-season hours

Voss Pecans
About us
Pecans are a family tradition for us. Ralph Voss and family for nearly 30 years have been bringing Excellent Quality pecans to our customers.
Pecans in Southern Illinois?
It is true - Pecans do grow natively in Illinois. Pecan trees can be found natively throughout the Kaskaskia River floodplain in Southern Illinois near Carlyle Illinois. Carya illinoinensis is actually the scientific name of the Pecan. Thomas Jefferson even gave George Washington "Illinois nuts" which he planted at Mount Vernon Virginia.
Products we sell
We sell pecans. Illinois largest grower.
We have 140+ acres of pecan trees. We offer: completely made out pecans (this is done at a processing plant - state & federal inspected). Offering made out halves & 3 sizes of pieces. Our big seller is our pecans half cracked open by electric machines. Easy to make out yourself! Sell at farmers markets and here on the farm during pecans season (around the holidays). Have also gotten into selling squirrel food - pecan wood & the shell too.
---