Denzer Celebrates 40-year Career
September 28, 2019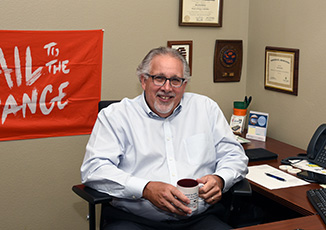 Gary Denzer, of Mahomet, is retiring from Farm Credit Illinois Sept. 30, after 40 years providing support to generations of farm families. Denzer is the vice president of internal audit based in the cooperative's headquarters in Mahomet.
Denzer was raised on his family's McLean County grain and livestock farm before graduating from the University of Illinois at Urbana-Champaign with a bachelor's degree in agricultural sciences. Throughout his 40 years of service,
Denzer held various positions including loan officer, credit analyst, and credit reviewer before assuming the role of vice president of internal audit in 2002.
He and his wife Cindy have been married for 40 years and have one son – Andrew – who lives in Portland, Ore. The Farm Credit Illinois team is grateful for his service to farm families and rural communities.# #
Farm Credit Illinois is a farmer owned and directed agricultural lending cooperative serving 11,000 farm families, agribusinesses, and rural landowners in the southern 60 counties of Illinois with competitive and flexible financing and crop insurance expertise. The Association manages a $4.34 billion loan portfolio, sells 1.2 million acres of crop insurance coverage, and employs 220 staff based in the Mahomet central office and 14 regional office locations. The Association delivered additional cooperative value by returning $20 million of cash patronage to member-owners in 2019. The U.S. Farm Credit System supports rural communities, farm families, and agriculture with reliable, consistent credit and financial services today and tomorrow.
Share
Download